News Updates
2022-03-17 11:46:56
Lagos State Induction holds 14th May, 2022.

WHO WE ARE

We are a professional organization engaged in capacity building. We are the world's leading provider of cost effective and reliable management training in the Education and training services industry.

WHAT WE DO

Our core areas are training, management and consultancy. Globally, the world has moved away from the industrial and information age to the current knowledge age. From our research, we have been able to discover that, Africa is still not well equipped in this new age. The International Institute of Project and Safety Management (IIPSM) is solely saddled with the responsibility of helping our clients locally and globally attain both professional, career and business success through our strategic trainings, innovative management techniques and specialized consultancy model specifically designed for individuals, private and public organizations.

As a key player in the education and training services sector and having observed that the skill gap in the African society is really posing a serious threat to service delivery, The International Institute of Project and Safety Management (IIPSM) is poised to bridge the gap in this sector by providing our clients with quality training of international standard so that they have the needed and required skills which are relevant for their competence and success.
Read more
MEMBERSHIP ADMISSION

* Student Membership
* Associate Membership
* Full Membership
* Fellow




BANK ACCOUNT DETAILS

ACCOUNT NAME:IIPSM Enterprises
ACCOUNT NUMBER: 1529344073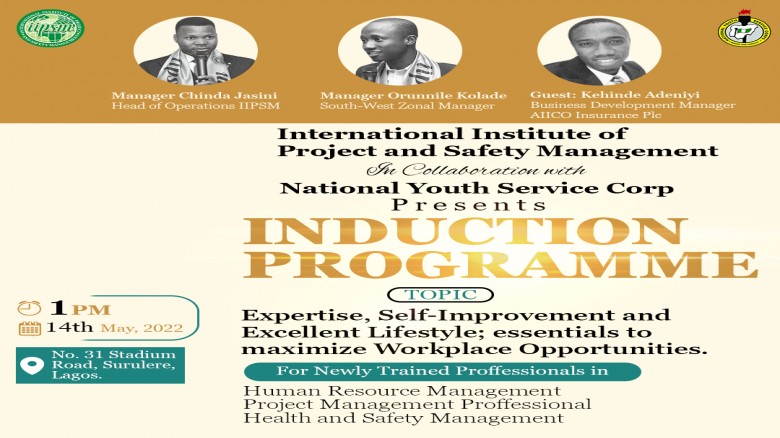 Posted on 2022-05-13 18:03:27
Lagos State Induction Ceremony holds on the 14th of May, 2022.....
Posted on 2022-05-13 18:01:09
Ibadan Zone Induction Ceremony ( Oyo and Ibadan Centers) holds on the 13th of May, 2022. Click here ....
PROGRAMMES
- PROJECT MANAGEMENT PROFESSIONAL (PMP)
- HEALTH SAFETY AND ENVIRONMENTAL MANAGEMENT (HSE)
- ENVIRONMENTAL IMPACT ASSESSMENT (EIA)
- HUMAN RESOURCES MANAGEMENT (HRM)